Connie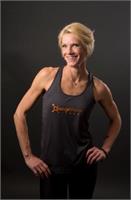 Connie was born and raised in Munich, Germany. She graduated from nursing school as an RN in 1995. In 2003 she moved to CA, where she raised four girls and then relocated her family to Colorado Springs in the fall of 2017.
Connie first started working at Orangetheory Fitness in 2015 as a Sales Associate and then became a coach in 2017. She is certified as a Group Fitness Instructor through the American Council of Exercise and received her Personal Training certificate through the National Academy of Sports Medicine.
As a mom of 4 girls, Connie quickly became very passionate about the workouts, the science behind it and the way, they changed her own training and activities in her daily life. Her three favorite things about OTF are the members, the community and theeverchanging, innovative workouts! Sharing her love for health and fitness with people is what drives her- to make exercising fun, something to look forward to. Living in a time when a lot of things happen in drive through mode, taking an hour out of your day for you needs to yield maximum results, needs to be fun and rewarding. OTF is all of that and more!
In her spare time, she loves being a Mom, exploring the outdoors and hopes to one day completing a Full Ironman Triathlon.
What do you burn for: My family and to be able to mentally and physically push myself to new limits.
Guilty pleasure: There's no guilty...only pleasure :) Gummibears ! for Breakfast, Lunch and Dinner
What's your favorite OTF exercise: S/A Clean to Press ….and rowing :)
Connie instructs the following: